Honey Schaumburg, PA-C
Provider at Johnson Dermatology Since 2012
---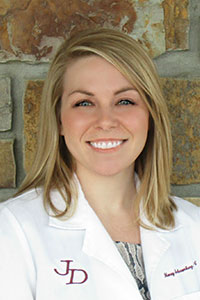 Honey Schaumburg, PA-C graduated in 2011 from the University of Oklahoma-Tulsa Physician Assistant program with a Masters of Health Sciences before furthering her dermatology training at Johnson Dermatology. She decided to stay with the team at Johnson Dermatology after she completed this extra training.
Honey served as secretary of her class. She completed her undergraduate degree at Rogers State University with a Bachelors of Science in medical/molecular biology. While attending RSU she was a member of Alpha Chi Honors Society. She is currently a member of the American Academy of Physician Assistants, the Arkansas Academy of Physician Assistants and the Society of Dermatology Physician Assistants.

Honey specializes in photodynamic therapy for the treatment of actinic keratosis. She is accepting appointments for all dermatologic conditions but excels in the treatment of acne, eczema, and psoriasis.
---