Amy Hudson, MD
Provider at Johnson Dermatology Since 2013
---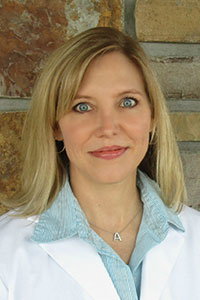 Amy Hudson joins Johnson Dermatology following 14 years of practice in both general pathology and dermatopathology with Pathology Laboratories of Arkansas.
Dr. Amy provided pathology coverage at Conway Regional Medical Center for 13 of these years, where she served as the Medical Director for the Clinical Laboratory and was an active member of numerous hospital committees, including the Medical Executive Committee, Performance Improvement Committee, and presented the pathology findings monthly at the hospital's multispecialty Cancer Conference. Additionally, she served as the Medical Director of the laboratory for Conway Medical Group, a primary care clinic.

Dr. Amy completed a fellowship in dermatopathology at the University of Arkansas for Medical Sciences (UAMS) with Dr. Bruce Smoller and Dr. Thomas Horn as mentors. SHE was awarded subspecialty certification in Dermatopathology jointly by The American Board of Pathology and The American Board of Dermatology in 1999. Her residency training in Anatomic Pathology (AP) and Clinical Pathology (CP) were also completed at UAMS, and she is board certified in both AP and CP.
Drs. Brad & Sandy were impressed by her skills, and are honored that she has joined the team at Johnson Dermatology, where she provides her high level of expertise for our patients.
Prior to residency and fellowship training, Dr. Amy graduated cum laude from the University of Mississippi Medical School and completed undergraduate education at the University of Southern Mississippi, receiving a Bachelor of Science degree as a chemistry major with a minor in music.

Dr. Amy is very excited to be a member of the team at Johnson Dermatology where she can focus on her favorite area of dermatopathology. She maintains her enthusiasm and knowledge in the field through her interaction with the staff and patients at Johnson Dermatology, as well as her involvement as Adjunct Clinical Assistant Professor at the University of Arkansas for Medical Sciences.
---